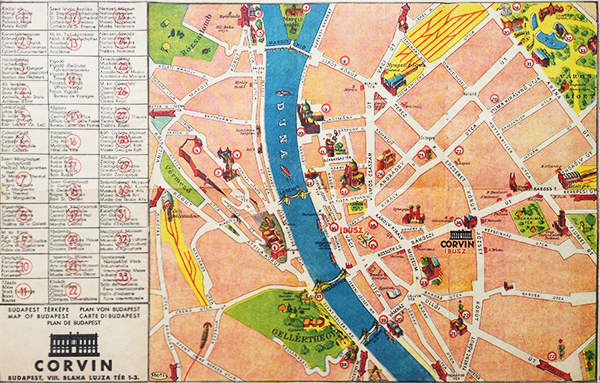 Description:
Document from 1935 with print on both side. One side has the map of the International Fair held in Budapest in 1935 from May 3 till May 13. The other side of the page has a map of Budapest downtown. Size: 41 x 26.5 cm.
Most probably this brochure was published for the occasion of the international fair held in Budapest. Besides giving useful information to those interested in the fair. The ancestor of the Budapest International Fair was called March Fair and the first one was held in 1906. The goal of it was to motivate people to buy local products. The fair became international in 1918 and the name was changed to Eastern Fair. The number of foreign sellers and buyers was constantly growing thanks to the establishment of the international fair card with which the taxes and travel costs could be reduced. For the locals, there were cheap fair trains available to help them getting to Budapest. In 1935 - the year of the present brochure - the Confederation of the Hungarian Industrialists joined the process of organizing the fair. The Budapest International Fair (Budapesti Nemzetközi Vásár, BNV) is still existing, however , not in its classic form.Today they have more than one specialized fairs a year.
In 1935 the same idea for advertising what we use today had already been discovered. The map being read by lot of people arriving in town was a good surface for advertising, hence Corvin Shopping mall - the first shopping mall in Hungary - used the available space to advertise itself. Corvin Shopping Mall opened in 1926 and besides having fashion stores, restaurants and cafés were also located in the building. The beautiful building gave home to fashion shows and other events. The very first escalator of the country was put on in Corvin Shopping Mall in 1931.
One side of this ephemera shows the map of the Budapest international fair and tells where certain parts can be found: textile, banks, handmade works, housekeeping, food, furniture, clothing, etc. On the sides on a red stripe with white letters the brochure calls people to buy a book with the list of all exhibitors for 1 pengő (the Hungarian penny of the time). On the bottom of the page a simple advertisment promotes Corvin Shopping Mall. It says Corvin is the biggest and most beautiful shopping mall of Hungary where one can find everything he needs.
The other side of the page shows Budapest downtown with all the tourist sights the city offers. In the bottom left corner there is another ad of Corvin.