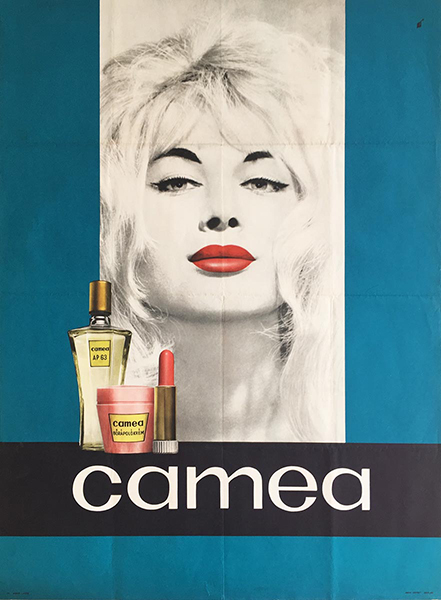 Camea cosmetics
Hungarian title:
Camea kozmetikumok
Size:
B1 (cca. 70 x 100 cm)
Condition:
Fine. Light fold marks and creases
Price: $400
Description:
In 1961 the state owned cosmetic factory, that incorporated numerous traditional smaller factories, was established. The giant company produced soap and cosmetic products. Brands for example Caola or Elida were manufactured here, as well as Camea. Camea offered lipstick, hand lotion, perfumed soap, aftershave, eau de toilette, hair spray and many other products. Their most exquisite product was the Lady Camea Exotic Intim Spray.
This rare poster pictures a lady with eye-catching red lips. The composition is a proof that fashion is repeating itself, as the make-up style of the lady is very fashionable today.