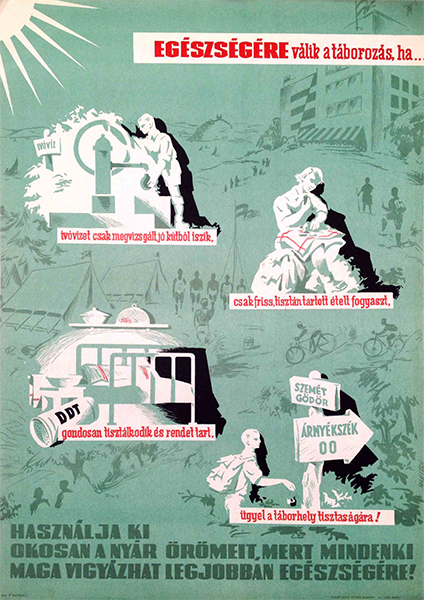 Camping is good for your health
Hungarian title:
Egészségére válik a táborozás
Size:
B2 (cca. 50 x 70 cm)
Condition:
Fine, small tears along the border.
Price: $200
Description:
Poster for a governmental health care campaign. The backround is not a homogeneous colour, but a vivid scene where campers enjoy certain activities. The slogan at the bottom says: 'enjoy to the maximum what summer has for you, because it is yourself who take care of your own health the most'. In the foreground there are four scenes drawn in white which are related to the text in red what say: camping is healthy if.... The possible dangers and the way to stay healthy are explained. The one on the top left tells that you should only drink the water of a well which is properly checked. The next picture tells that one should only eat fresh and clean food. The third emphasizes the importance of hygiene and the fourth draws the attention to keeping the camp clean and proper. The design of the poster is typical of the early 1960s.