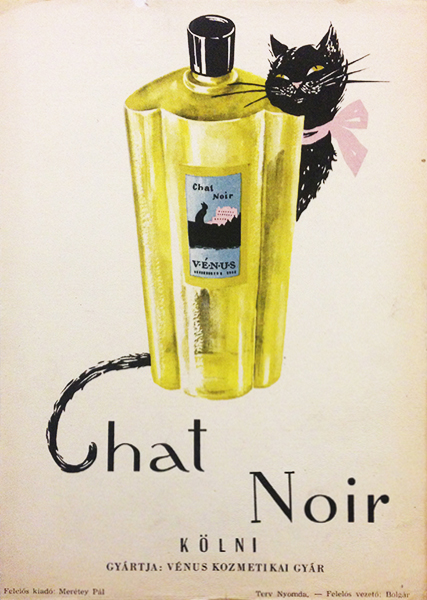 Chat Noir Eau de Cologne
Hungarian title:
Chat Noir Kölni
Size:
Tram poster (cca. 17 x 24 cm)
Condition:
Fine, some paper loss at the top border.
Price: $200
Description:
Poster for the Chat Noir eau de cologne. The fragrance was produced by Venus Cosmetic Factory as indicated at the bottom. Chat Noir means black cat in French, hence the cat on the picture. All Chat Noir fragrances had a black cat on their advertisments, however, the cat wasn't the same on all designs. The composition is very classy. The cat hides behind the bottle of the advertised product and we can only see her head and tale. The way she curves her tail gives the first letter of the brand name - C - written below the bottle. The simplicity of the design alludes that the target audience of the brand was the sophisticated and elegant grown up women.