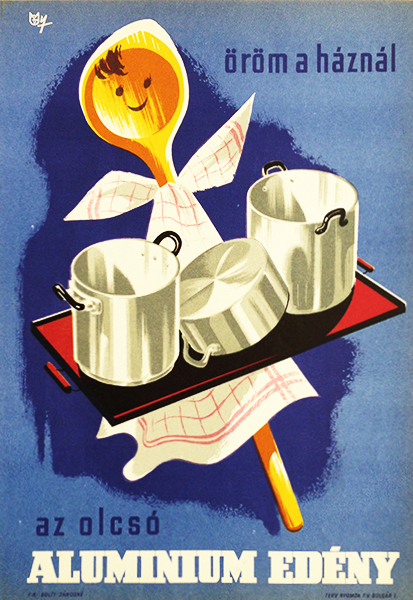 Cheap Aluminium Dishes are a Pleasure to Have at the House
Hungarian title:
Öröm a háznál az olcsó alumínium edény
Size:
Tram poster (cca. 17 x 24 cm)
Condition:
Fine, light wear.
Price: $120
Description:
Tram poster promoting aluminium dishes.
Aluminium dishes replaced cast-iron and crockery in the 1920s. It was lioghtweight and cheap hence considered to be more practical. In the 1950s cheap goods were preferred mainly because that was what the mjority of the people could afford. This poster tells people that it's not only cheap but a pleasure to have it in the household. It was very common in the 1950s and 60s that posters did not advertise a certain brand but a certain product line. This piece is not an exception.
The design is very cute. A wooden spoon wears a tea towel tied around her neck thus it looks like a person. S/he is holding a tray packed with the akuminium dishes. The poster alludes that it is very easy to take care of these dishes and it is pure joy to use them.