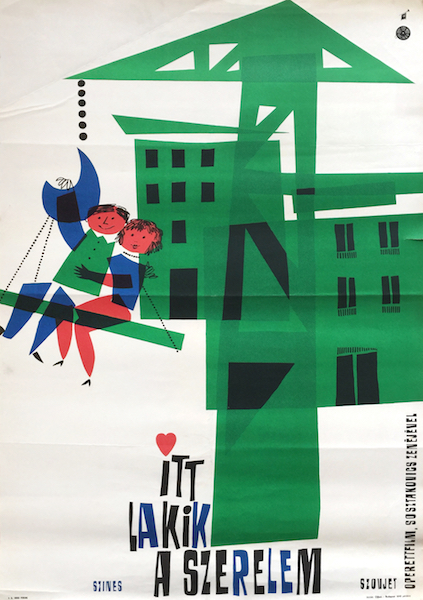 Cherry Town
Hungarian title:
Itt lakik a szerelem
Size:
A1 1 Sheet (cca. 55 x 84 cm)
Condition:
Fine, fold marks, some creasing, small tears.
Price: $240
Description:
Cherry Town (original title: Cheryomushki) is an original 1963 vintage Hungarian movie poster advertising a Russian film designed by Antal Gunda.
Moscow, Cheryomushki (Russian: Москва, Черемушки; Moskva, Cheryomushki) is an operetta in three acts by Dmitri Shostakovich, his Op. 105. It is sometimes referred to as simply Cheryomushki. Cheryomushki is a district in Moscow full of cheap subsidized housing built in 1956, and the word is also commonly used for such housing projects in general. The libretto was written by the experienced team of Vladimir Mass and Mikhail Chervinsky, leading Soviet humorists of the day.
The satirical plot dealt with a topical theme geared to one of the most pressing concerns of urban Russians, the chronic housing shortages and the difficulties of securing livable conditions. Cheryomushki translates to "bird-cherry trees" and the operetta was named after a real housing estate in southwest Moscow. The work was completed in 1958 and received its premiere in the capital on 24 January 1959. The operetta is reminiscent of Shostakovich's popular music of the period, yet at the same time it engages a satirical assessment of the housing redevelopments in Moscow.
In 1963, Lenfilm released a film version directed by Gerbert Rappaport, under the shorter title Cheryomushki. The film featured additional music by Shostakovich. (source: wikipedia.org)
The title of the film (literally "Cherry Town") refers to new towns or neighborhoods based on middle-class urban development, where every block of houses looks exactly the same as the next. This musical involves the tribulations of four couples whose lives humorously intersect.
Director: Gerbert Rappaport
Writers: Mikhail Chervinsky (libretto), Isaac Glikman
Stars: Olga Zabotkina, Vladimir Vasilyev, Marina Khotuntseva
(source: imdb.com)