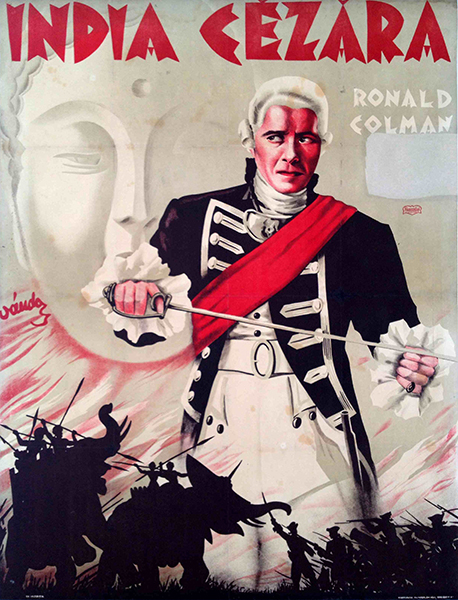 Clive of India
Hungarian title:
India cézára
Size:
Pre-war 2 Sheet (cca. 95 x 126 cm)
Condition:
Very good. Restored paper loss and tears, backed on linen.
Price: $1200
Description:
Spectacular movie poster from the 1930s. It was created for the movie 'Clive of India', starring Ronald Colman and Loretta Young.
In the mid-1700's the East India Company has power over commerce on the sub-continent, with the blessings of the British government. A clerk in the company, Robert Clive, is frustrated by his lack of advancement, and transfers to the military arm of the company, where he excels. Clive's leadership and gift for manipulation strengthen England's hold over India and lead to personal wealth, which is often threatened by the enemies he makes along the way.
(source: imdb.com)
The poster is a decorative piece of the Art Deco movie poster era with a varied composition in beautiful colours and a stylized portrayal.