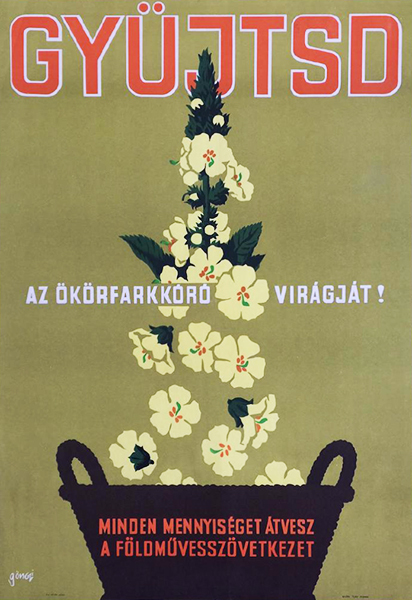 Collect mullein flowers!
Hungarian title:
Gyűjtsd az ökörfarkkóró virágját!
Size:
B2 (cca. 50 x 70 cm)
Condition:
Fine, light fold marks and wear.
Material:
Paper, offset lithography.
Price: US$400
Description:
Original Hungarian vintage propaganda poster by Tibor Gonczi Gebhardt from 1964.
The poster intended to motivate people to collect mullein flowers what should be handed in to the agricultural cooperative.
Mullein leaf, flower and root, with its litany of folk uses ranging from 'nature's toilet paper' to an effective apotropaic (fancy word meaning that which wards off evil spirits), have been used extensively in folk medicine. Its magical qualities were numerous, going way beyond simply warding off evil but also was thought to instill courage and health, provide protection, and to attract love. In fact, it was believed that wearing mullein would ensure fertility and also keep potentially dangerous animals at bay while trekking along in the wilderness. Further, allegedly a practice for men in the Ozark mountains to attract love consisted of simply pointing the mullein's flowering stalk towards the direction of his love's house and seeing if the stalk went upright again indicating her reciprocated love. (source: www.mountainroseherbs.com)