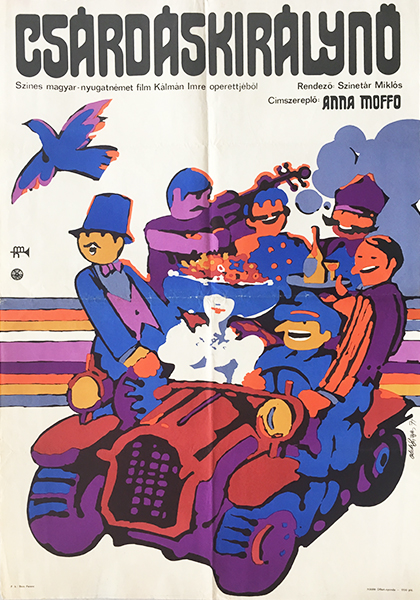 Csardas Princess, The
Hungarian title:
Csárdáskirálynő
Size:
A1 1 Sheet (cca. 55 x 84 cm)
Condition:
Fine, fold marks, light wear.
Price: $400
Description:
The Csárdás Princess; translated into English as The Riviera Girl and The Gipsy Princess is an operetta in 3 acts by Hungarian composer Imre Kálmán, libretto by Leo Stein and Bela Jenbach. It premiered in Vienna at the Johann Strauß-Theater on 17 November 1915. Numerous film versions and recordings have been made. The operetta is widely beloved in Hungary, Austria, Germany, all of Europe and particularly in the former Soviet Union, where it had been adapted into a popular film. It is arguably Kálmán's most successful work. (source: wikipedia.org)
Oláh, the author of the poster is a versatile artist who designs posters in great variety of styles. In the 1970s he created numerous movie posters, some of which were detailed drawn compositions, some were minimalist designs and some represented pop art style. This piece is a great example of the latter. The design is built upon the travel theme of the story as well as on the main character, Sylva Varescu an operetta singer, having a number of admirer: they are all travelling in the car. Sylvia pops out as she is the only colourless figure amongst the colourful men. Her whiteness represents elegance, while her hat covered with flowers adds playfulness to her character. Oláh successfully incorporated all significant information about this famous story in one compact and decorative image.