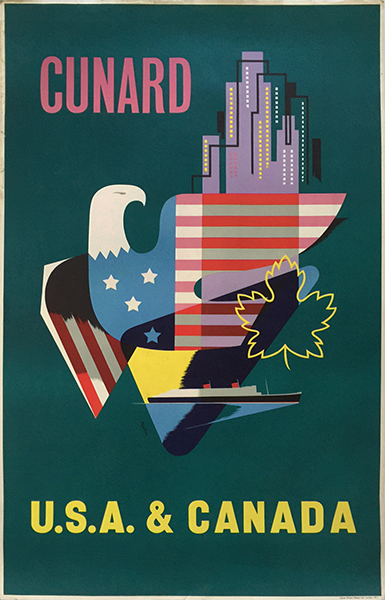 Cunard USA & Canada
Hungarian title:
Cunard USA & Canada
Size:
B1 (cca. 70 x 100 cm)
Condition:
Fine, some creasing and light wear.
Price: $1200
Description:
Decorative poster for a British-American ocean liner, Cunard.
The company was founded by Samuel Cunard who was given the very first British transatlantic steamship contract in1839, and Robert Napier, the Scottish steamship engine designer. The two men established the British and North American Royal Mail Steam-Packet Company. From its establishment through 30 years Cunard possessed the Blue Riband for being the fastest Atlantic voyage. In the 1870s it went through a minor decline and the company was reorganized in 1879.
In 1902 White Star joined the American-owned International Mercantile Marine Co. and the British Government provided Cunard with substantial loans and a subsidy to build two superliners needed to retain its competitive position. Mauretania held the Blue Riband from 1909 to 1929. The sinking of her running mate Lusitania in 1915 was one of the causes of the United States' entering the First World War. In the late 1920s, Cunard faced new competition when the Germans, Italians and French built large prestige liners. Cunard was forced to suspend construction on its own new superliner because of the Great Depression. In 1934 the British Government offered Cunard loans to finish Queen Mary and to build a second ship, Queen Elizabeth, on the condition that Cunard merged with the then ailing White Star line to form Cunard-White Star Ltd. Cunard owned two-thirds of the new company. Cunard purchased White Star's share in 1947. In the year of this poster, the name reverted to the Cunard Line in 1950. Upon the end of the Second World War, Cunard regained its position as the largest Atlantic passenger line. By the mid-1950s, it operated 12 ships to the United States and Canada. (source: wikipedia.org)
The author of the poster incorporated the visual representations of the company's two major destinations in one image: the United States is represented by the stylized skyscrapers, the American Eagle and the flag on it, while the maple leaf refers to Canada. A ship also appears on the bottom of the image.