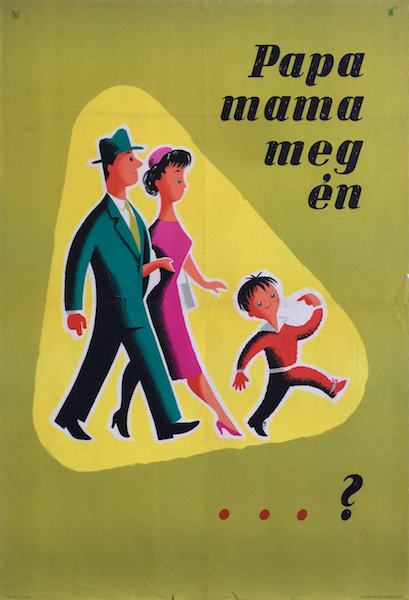 Dad, mom and I...? State Department Store
Hungarian title:
Papa mama meg én...? Állami Áruház
Size:
A1 1 Sheet (cca. 55 x 84 cm)
Condition:
Fine, light fold marks and wear, small tears.
Price: $1000
Description:
Dad, mom and I...? National Department Store is a vintage Hungarian commercial poster designed by Gyula Macskassy in 1960.
This poster uses the unfinished sentence as a riddle to catch the interest of potential customers. It shows a family of three, the parents and a young boy on their way to somewhere.
The solution is provided on the pair of this poster:
Dad mom and I - we buy everything at one place, in the State Department Store
On this second poster all three members of the family are on their way home after shopping, carrying packages they bought in the State Department Store.
This piece is a typical Mid-century modern, cheerful composition with a beautiful colour use and combination that is atypical in poster art.
The artist, Gyula Macskassy was one of the founding fathers of Hungarian animation, and was a prolific advertising artist as well.