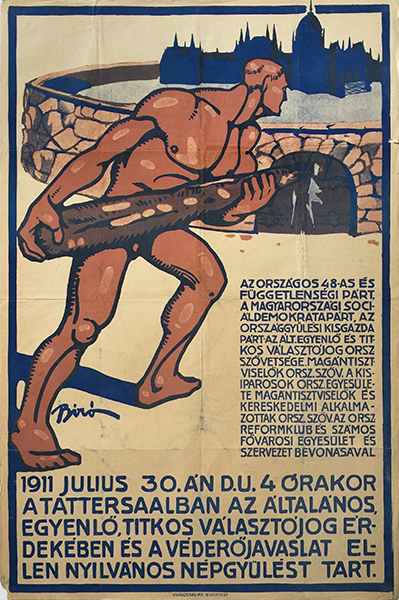 Demonstration for Equal and Common Suffrage
Hungarian title:
Az Országos 48-as és Függetlenségi Párt a Magyarországi Socialdemokratapárt, ... 1911 július 30-án du. 4 órakor a Tattersaalban az általános, egyenlő, titkos választójog érdekében és a véderjavaslat ellen nyilvános nagygyűlést tart
Size:
Pre-war 1 Sheet (cca. 63 x 95 cm)
Condition:
Fine, light fold marks and wear, small tears.
Material:
Paper, stone lithography.
Price: US$16000
Description:
Mihály Biró, the author of this poster is mostly known for his iconic work, 'Red man with a hammer' that earned him international recognition and made him the father of political poster art. Besides posters, he was active in many fields of graphic design creating for example newspaper illustrations, demonstration banners and cover designs as well. Biró was deeply committed to the labour movement but instead of joining the Hungarian Social Democratic Party (what by the beginning of the 1900 was already a significant political power), he supported them with his suggestive and emotionally charged art, in what his firm beliefs manifested. Biró was not only a graphic artist and an exceptional poster designer, he was the medium of the social democratic political ethos.
This poster propagates the public gathering organized by the Party of Independence and '48 to demostrate for equal and secret voting rights.
The Party of Independence and '48 was one of the two most important political parties in Austrian-Hungarian Kingdom whose spiritual leader was Lajos Kossuth. In the year of the poster the party was in opposition.
The poster lists numerous leftist organizations involved in the event. In terms of graphic elements, Biró, as usual, used powerful symbols. The building of the Parliament is surrounded by a fortress and seems very distant. A strong, muscular worker is leaning forward and trying to break the gate of the fortress with a huge log. The worker is enormous, the Parliament is being dwarfed by it. It visually represents the spiritual greatness and strength of the working class as opposed to the dishonest political system that is doomed to fail and be taken over by the labour movement.