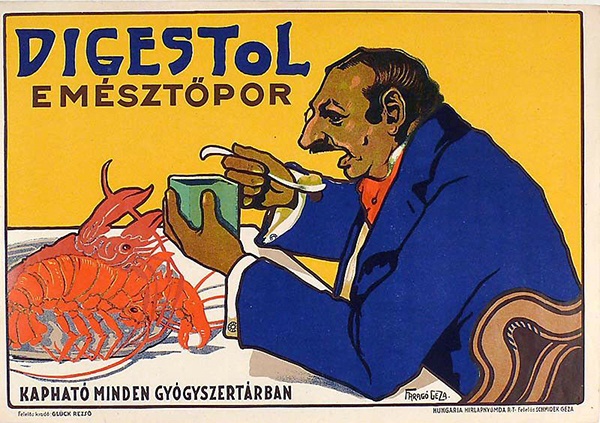 Digestol digestive powder
Hungarian title:
Digestol emésztőpor
Size:
Double Tram poster (cca. 24 x 34 cm)
Condition:
Fine, light wear.
Material:
Paper, stone lithography.
Price: US$1200
Description:
Poster by one of the most prominent masters of early Hungarian poster art, for Digestol digestive powder. The graphic design perfectly reflects the Art Nouveau style popular in the 1910s, as well as the humorous, satirical attitude of Faragó. Faragó often depicted typical characters of society of his time, most of the time captured in restaurants, clubs or bars. He was greatly influenced by the Czech master, Mucha which influence is represented on this piece by the strong contours filled with vivid yellow and blue.
On the advertisment for Digestol Faragó depicts a man, a typical dandy - a character that he often applied - who takes a spoonful of the digestive powder before starting to eat the large portion of lobster in front of him. The satirical composition has a great atmosphere. There is not much text on the piece, only the basic information written with decorative Art Nouveau typography: the name of the product and that it was available in all pharmacies.