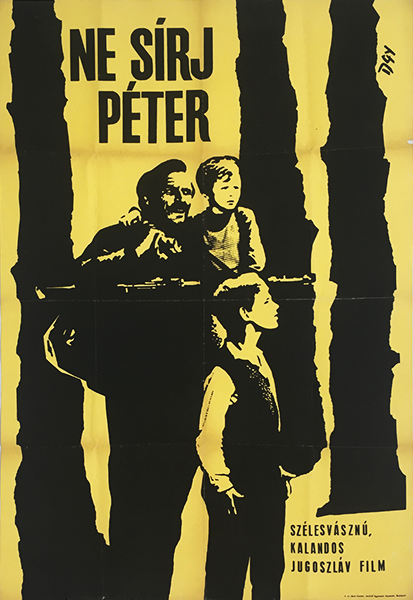 Don't Cry Peter
Hungarian title:
Ne sírj Péter
Size:
A1 1 Sheet (cca. 55 x 84 cm)
Condition:
Fine, with fold marks, small tears.
Material:
Paper, intaglio.
Price: $280
Description:
Don't cry Peter is a 1964 Hungarian vintage movie poster by Gyorgy Deak advertising a Yugoslavian film. For this expressive poster design, Deak used the so-called "burned photography" technique - overexposed photo - to achieve an impressive yellow and black composition.
Don't Cry, Peter (Slovene: Ne joči, Peter), also known as Nicht Weinen Peter, is a 1964 Slovene comedy war adventure film directed by France Štiglic. Released on 17 July 1964, the film was entered in the Third International Film Festival of India (1965) in Delhi, India. The cast included Lojze Rozman, Bert Sotlar, Zlatko Šugman, Majda Potokar, Polde Bibič and Bogdan Lubej as the titular Peter. The story, set during WW II, is about three Partisans entrusted the job of safely taking three children to a liberated area, meeting German soldiers on the way. (source: wikipedia.org)