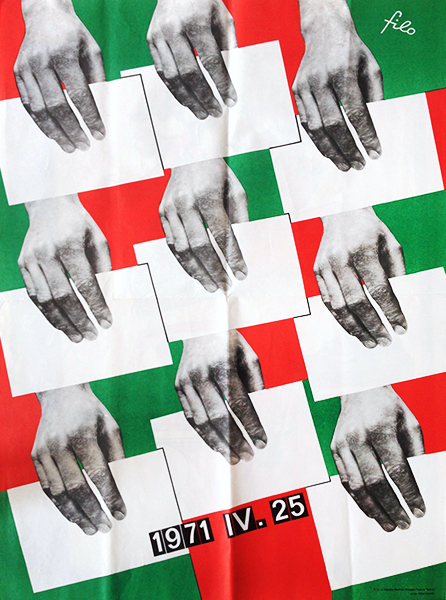 Elections 1971 IV. 25
Hungarian title:
Választások 1971 IV. 25
Size:
B1 (cca. 70 x 100 cm)
Condition:
Fine, light fold marks and wear.
Price: US$2400
Description:
Election poster for an important occasion in Hungary's history. For Hungary World War II ended with a Soviet occupation in 1945 and after a few years of political fights the Communist Party completely took over in 1949. That was the time when the country officially became a one-party state. Communism ended only in 1989 and during the 40 years there were 8 elections held. Knowing that there was a one-party system in Hungary it is clear that most of these elections were held to manipulate people and to demonstrate that there was a reason for the Socialist government staying in power. These elections did not have any political or other effect and were only held pro forma.
The election in 1971 was a chance to be somewhat different as in 1970 the monopoly of the Patriotic People's Front to appoint nominees was abolished. It gave hope to people that maybe other than the puppets of the government will get a chance to be elected. However, it didn't turn out like that, as the whole nominating procedure was supervised by the state. The way of voting changed: the voters had to cross out the nomenees' names who they did not want to vote for. The tickets on which no names were crossed were considered unvalid. The poster of Filo was made for the very much awaited elections of 1971. It is a decorative piece: the composition consists of the repetitive pattern of a hand holding a white voting ticket and the green and red panels of the backround. The ticket and the background give the Hungarian national tricolor: red, white and green.