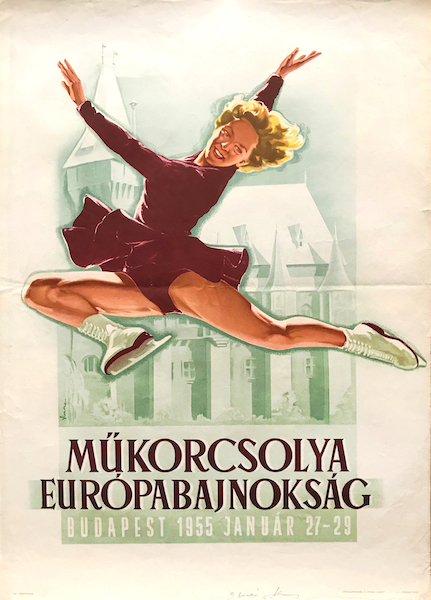 European Figure Skating Championships 1955
Hungarian title:
Műkorcsolya Európa-bajnokság 1955
Size:
B2 (cca. 50 x 70 cm)
Condition:
Fine, light fold marks and wear, small tears.
Price: $600
Description:
European Figure Skating Championships 1955 is a vintage Hungarian sport poster designed by Denes Vincze.
This poster, designed for the European Figure Skating Championship in 1955, was created in a period of Hungarian poster art history which was dominated by Socialist Realism.
Dénes Vincze often designed posters dealing with sports. Similarly to another Socialist Realist sport poster of him ('Gymnastics - the sport of skill and beauty', 1954), this poster also uses reduced number of elements, the strongly highlighted figures in an emphasised shape appear in front of a simple backround whilst jumping.
Meeting the requirements of the period, the realist portrayal is a must of these posters as well, but the images of woman figures are different from the usual, asexual representations of other Socialist Realist posters. The dresses show the body images of the athletes, the defined silhouette and the highligted tonality of muscles contribute to the strong emphasise of the bodies. It is an interesting fact that although the aspect of beauty couldn't really appear in representations of the female body on Socialist Realist posters, in some rare cases and only for a noble cause – just as sport and health education – it could appear as an exception.
(Anita Pásztor)