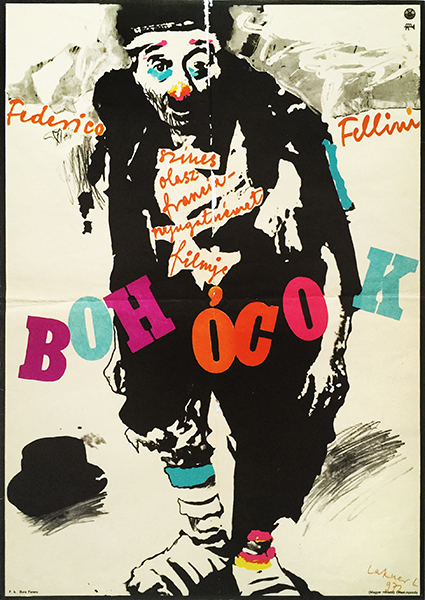 Fellini: Clowns
Hungarian title:
Fellini: Bohócok
Size:
A2 1/2 Sheet (cca. 42 x 59 cm)
Condition:
Good, paper loss along vertical fold mark.
Material:
Paper, offset lithography.
Price: US$2000
Description:
Original Hungarian vintage movie poster for Fellini's Clowns from 1972 by Laszlo Lakner.
I clowns (also known as The Clowns) is a 1970 film by Federico Fellini about the human fascination with clowns and circuses. It is a docufiction: part reality, part fantasy. The film has sometimes been referred to as the first mockumentary in film history, although 1964's A Hard Day's Night may have a superior claim to that distinction. Being documentary and fiction in one, The Clowns distinguishes itself by being a mockumentary with unique characteristics, not the least of which is reflecting Fellini's own increasing fascination with how documentary films reflect "reality". Fellini would further explore this semi-fictional documentary genre in 1972's Fellini's Roma and 1987's Intervista, both of which contain unreliable depictions of Fellini himself making the film within the film narrative. (source: wikipedia.org)
The author of the poster, Laszlo Lakner, is one of the most prominent Hungarian artists who are recognized for creating exceptional works in pop art style.