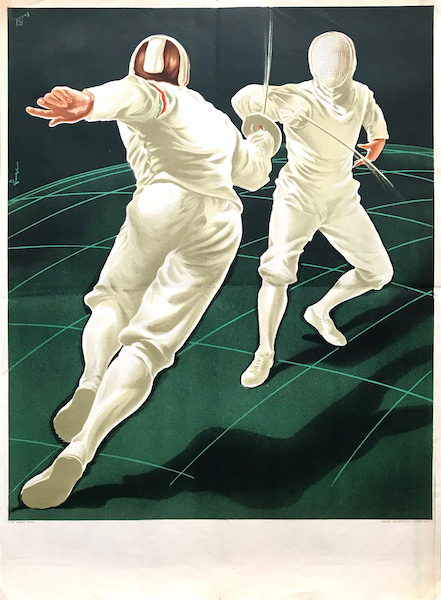 Fencing Championships
Hungarian title:
Vivó bajnokság
Size:
B2 (cca. 50 x 70 cm)
Condition:
Fine, light fold marks and wear, small tears.
Material:
Paper, offset lithography.
Price: US$600
Description:
Fencing Championship is a 1955 vintage Hungarian sport poster designed by Denes Vincze.
Beautiful sport poster from the 1950s. The representation of the fighting champions is very punctual and decorative; and the artist was able to capture the dynamism of the movement as on all of his sport posters. The poster is a nice piece that avoids the schemes of the Socialist Realism despite it was created in an era when artists were obliged to adapt to the norms set by the Soviet Union also on the fields of art.
On this poster the fencers don't fence on the piste but on the globe, thus indicating that the championship was international. He depicted two sabre fencers that was the most popular weapon out of the three: epée, foil and sabre. The image shows the attacking fencer from the back. Beautiful depiction of a traditional sport. The piece is a bianco one, the date and place of the event was supposed to be indicated on the blank bottom part of the poster.