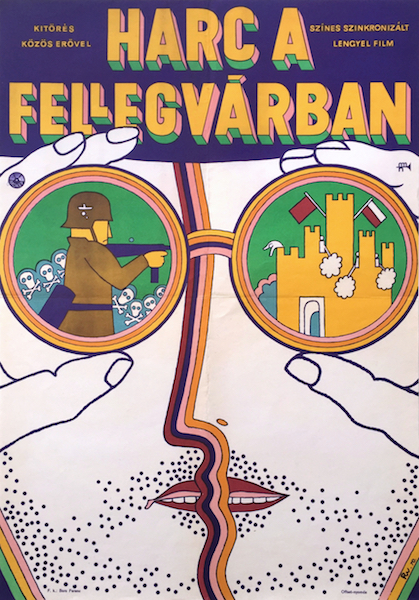 Fight in the Citadel
Hungarian title:
Harc a fellegvárban
Size:
A2 1/2 Sheet (cca. 42 x 59 cm)
Condition:
Fine, light fold marks and wear.
Price: $320
Description:
Fight in the Citadel is a 1970 vintage Hungarian Pop Art movie poster designed by Revesz - Wigner advertising a Polish war film from 1969, directed by Jerzy Passendorfer.
Dzien Oczyszczenia (literally translates to "Day of Atonement"), the 1970 Jerzy Passendorfer Polish World War II Nazi Resistance revenge melodrama starring Barbara Soltysik, Aleksandr Belyavskiy, Janusz Bukowski, Anatoli Golik, and Stanislaw Jasiukiewicz.
The film takes place in the summer of 1944 . A branch of the Home Army operating in Sącz region is being decimated by the Germans during attempts to take over the dump of weapons and ammunition from England . About 20 soldiers are fired from the encirclement, including the commander - major "Grandfather" - and his deputy - captain Stańczyk. The partisans are trying to get to the ruins of a nearby castle; it was there that the last container of ammunition was to fall. The commander sends two people to scout. Only one comes back, without ammunition.