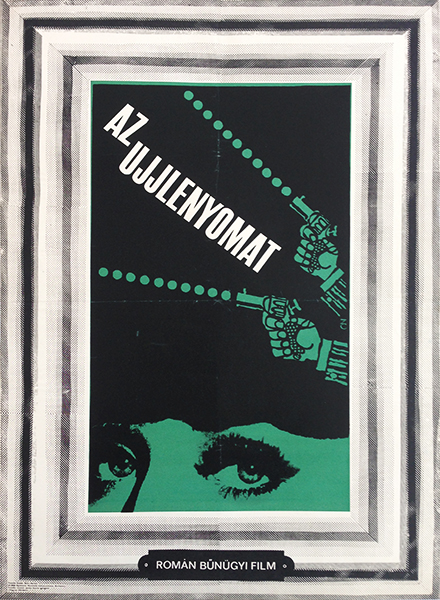 Fingerprint
Hungarian title:
Az ujjlenyomat
Size:
A1 1 Sheet (cca. 59 x 84 cm)
Condition:
Fine, light fold marks and wear.
Material:
Paper, intaglio.
Price: US$240
Description:
Decorative poster by Crescencia Zelenák, for a Romanian crime movie.
In the story, a gang of thieves try to smuggle a valuable stolen painting out of the country. (source: imdb.com)
The composition looks like it is a framed picture. On the frame where paintings normally have their title: 'Romanian crime movie' is written. On the picture at the bottom, the eyes of a lady can be seen which is a photo and above her there are two drawn hands shooting from a gun. The title of the film is written between the lines drawn by the bullets being shot.