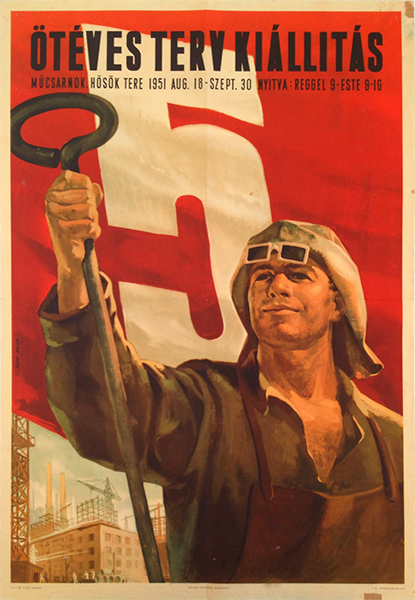 Five Year Plan Exhibition
Hungarian title:
Ötéves terv kiállítás
Size:
A1 1 Sheet (cca. 55 x 84 cm)
Condition:
Fine, tears along the border.
Price: $2400
Description:
Monumental socialist realist poster, created for the Five-Year Plan Exhibition of 1951.
The Five-Year Plan Exhibition took place in the Kunsthalle, between the 18th of August and the 30th of September. The aim of the exhibiton was to present the facilities built by the socialist state with photos, maquettes and plans.
Gábor Papp's propaganda works were mostly designed together with Károly Reich. The duo did not only work on political grounds but also designed picturesque landscapes for tourism posters to advertise Hungarian destinations. Papp is otherwise known from his modern typographic posters from the 1960's-1970's, which represented a Hungarian version of Helvetica design.
This is one of the duo's few Socialist-Realist works. It is a typical propaganda poster with specific motifs and characters. The young worker is looking ahead, bravely into the future. Behind him a flag promotes the 5 years plan. In the background we see a landscape of the factory which is under construction, probably expanding. The realist portrayal and the heroic atmosphere of the poster are inevitable features of socialist realist designs.