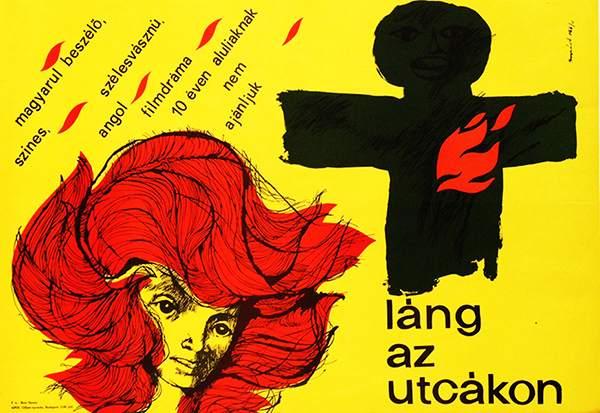 Flame in the Streets
Hungarian title:
Láng az utcákon
Size:
A2 1/2 Sheet (cca. 42 x 59 cm)
Price: $120
Description:
Decorative poster for a British drama film. A union leader in a large company tries to win equal rights for the handful of West Indian workers at the company, but finds it is an uphill battle. After being successful, and rightly proud of his efforts, he finds that he and his wife have a difficult time coming to terms with the fact that his only daughter intends to marry a West Indian. (source: imdb.com)
The composition is in a landscape format which is relatively rare in poster design. The composition alludes to flames in every bit. The hair of the character is made of flames, the signs separating the words on the top and flames in the place of the heart of the figure in the background. The colours of the poster are very intense: yellow, red and black. The artist, Árpád Bognár designed many movie posters in the 1960s.