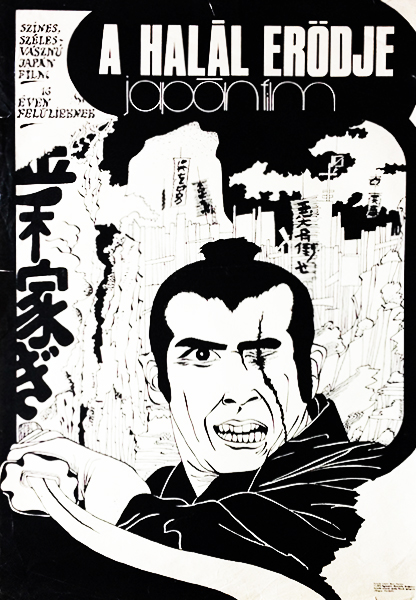 Fort of Death, The
Hungarian title:
A halál erődje
Size:
A1 1 Sheet (cca. 59 x 84 cm)
Condition:
Very good, creases and tears along the border.
Material:
Paper, intaglio.
Price: US$400
Description:
The Fort of Death (Gonin no Shokin Kasegi) is a 1969 samurai movie starring Tomisaburo Wakayama. The film tells the story of the master killer Shikoro Ichibei who takes up the cause of a group of farmers being driven to despair by the vile Lord Ozeki. The villanous lord has driven them to mounting their last stand at a deserted fort against an army of attackers.
The designer of the poster, Jószef Pecsenke (known as Joe A. Pecsenke in the United States) was a prominent painter, graphic artist and actor. In 1971 he left Hungary and emigrated to the the United States. Prceeding his emigration he mostly designed movie posters and at the end of the 1960s he started to incorporate the style of comic books in his works. This black and white, drawn composition for 'The Forth of Death' is a good example of his comic-like works.