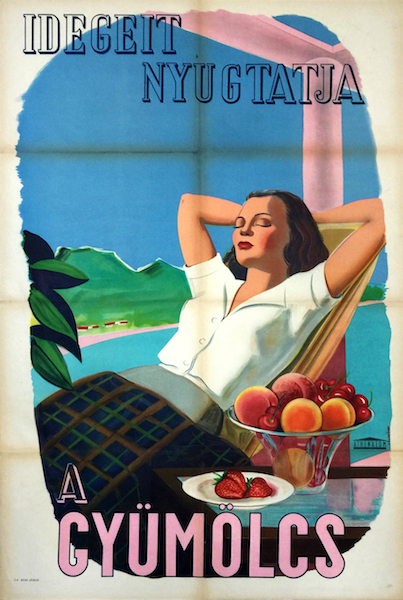 Description:
Charming Art Deco poster from the 1940s which promotes the advantages of consuming fruit designed by Voczkondy. The slogan is very unusual - it says that eatring fruit is soothing our nerves. All the needed elements are represented for a splendid commercial: beautiful lady, holiday, sea, shore, sunshine, peace.
The lady is depicted lying in a deck chair in an open-air building, she is enjoying the sunlight with her eyes closed. Several kinds of fruits can be seen in a glass bowl, a plate on a coctail table next to the lady, and a lake with green surroundings with the light blue sky appear in the background. The fruits on the table are portrayed in a quite realistic way (especially the strawberries on the plate), the background is seized just roughly, though. The lady is dressed in the typical style of the 1940s, wearing a white blouse and a long skirt. Her face and hair are depicted beautifully: fine lines, delicate shapes and soft shades contribute to the decorative image. The whole portrayal is adopting the style of Art Deco which was one of the most characteristic tendencies of the 1930s-1940s poster art of Hungary.
This piece is an interesting and decorative example of fine Art Deco posters of Hungary in the 1940s.