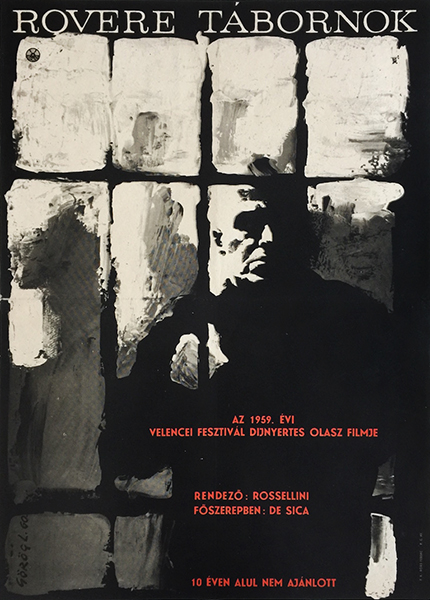 General Della Rovere
Hungarian title:
Rovere tábornok
Size:
A2 1/2 Sheet (cca. 42 x 59 cm)
Condition:
Fine, light fold marks and wear.
Material:
Paper, offset lithography.
Price: US$320
Description:
General della Rovere (Italian: Il generale Della Rovere) is a 1959 Italian film directed by Roberto Rossellini. The film is based on a novel by Indro Montanelli which was in turn based on a true story.
The film tells the story of a petty thief Emmanuele Bardone (played by Vittorio De Sica) who is hired by the Nazis to impersonate an Italian resistance leader, General della Rovere, and infiltrate a group of resistance prisoners in a Milan prison. Gradually, Bardone loses himself in his role and not merely pretends to be a hero of the resistance but actually becomes one, first encouraging his fellow prisoners to show courage and eventually accepting death by firing squad rather than betraying another imprisoned resistance leader. (source: wikipedia.org)