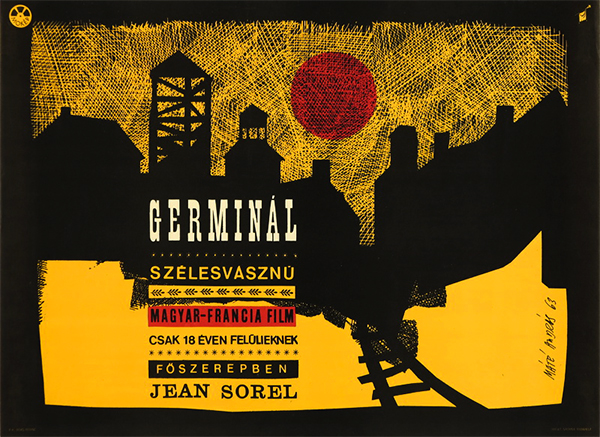 Germinal
Hungarian title:
Germinál
Size:
A2 1/2 Sheet (cca. 42 x 59 cm)
Condition:
Fine, light fold marks and wear.
Material:
Paper, offset lithography.
Price: $480
Description:
Decorative film poster for a French movie which takes place in 1863. Etienne Lantier, who has been fired from a railway company for being involved in union activities, lands a miner's job in the North of France. He finds bed and lodging at the Maheus', all of whom being miners themselves and whose daughter Catherine proves susceptible to his charm.The work is hard, ill-paid and dangerous. When the miners hear their wages are going to be cut down they revolt, led by Lantier. The company decides to bring workers in replacement and the authorities repress the rebels ruthlessly. The strike ends in death and suffering but hope for a better future still prevails, in spite of everything...(source:imdb.com). The film is based on Émile Zola's novel and was directed by Yves Allégret. Jean Sorel is starring in the leading role and Hungarian actors also took part in the movie: Gábor Koncz, Gábor Agárdi, Sándor Pécsi, among others.
The designer of this poster András Máté belonged to the generation of artists who formed the most important circles in the 1950s. His designs are always very delicate, harmonic and lyrical. Máté often designed posters for MOKÉP, thus the majority of his ouvre consists of movie posters, though he made several beautiful commercial and other posters as well. He was also active on fields other than poster design such as package design, logo or emblem design, etc. Máté's posters often bear the characteristics of expressive paintings.
This poster by Máté for Germinal is a beautiful piece. The main motif of the composition is the silhouette of an abandoned railway station. Behind it the sun is coming up and it's demonstrated by the geometric rhythm of raster lines and a red spot. The vivid yellow background completes the composition.