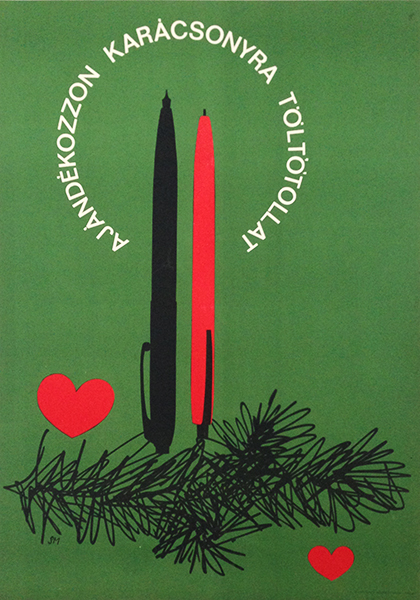 Give a fountain pen for Christmas
Hungarian title:
Ajándékozzon karácsonyra töltőtollat plakát
Size:
A1 1 Sheet (cca. 55 x 84 cm)
Condition:
Fine, light fold marks and wear.
Price: $600
Description:
Give a fountain pen for Christmas is a 1960s vintage Hungarian advertising poster designed by Margit Sandor.
The first fountain pen was invented by a Romanian man called Poenaru in 1827 but the mass production of them hadn't started until the end of the 1880s. Fountain pens became extremely popular very quickly but in the 1950s as a result of the quick success of the ballpoint pen this popularity rapidly dropped, but advertisments helped to remind people of its existence. Fountain pen had the image of being more elegant than a general ball pen, hence posters are commonly emphasizing this image. Sandor's poster is not an exception. To create the Christmas atmosphere, she used a green background and the pens symbolize the candels while the text written around them is the light given by the lit candles. The two red hearts randomly placed on the image add kindness to the otherwise rather strict composition.