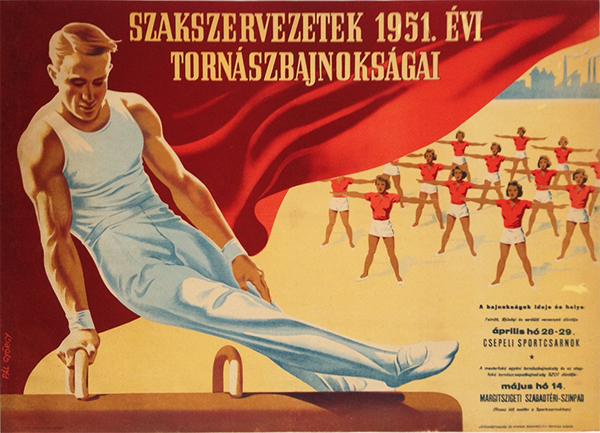 Gymnastics Championships of Labour Unions in 1951
Hungarian title:
Szakszervezetek 1951. évi tornászbajnokságai
Size:
A1 1 Sheet (cca. 59 x 84 cm)
Condition:
Fine, fold marks. Restored paper loss and tears.
Material:
Paper, offset lithography.
Price: US$1200
Description:
Interesting sport propaganda poster from the early 1950s.
Those years were the darkest ones of Communism. Sports life had several functions in the period. On one hand, ordinary people could get rid of some of the stress they had by living in a dictatory. On the other hand, sports life was considered to be an important ideologic issue by the socialist regime. Sports were connected to health, and the aim of the regime was to obtain healthy and strong workers who can produce well at work. What's more, they also get rid of the redundant energy they would spend on thinking and talking about political affairs. So sports life became strictly ruled and organised by movements, institutions and organisations led by the political party. As this poster shows, tournaments and championships were organized by Labour Unions which were under the control of state politics in the country.
The beginnings of the decade also implied the hardest years of art due to the obligatory norms of Socialist Realism. This piece adopts the realist portrayal and the heroic manner in the representation of the sportsman with the red carpet behind, but not the whole design is typical of its time.
The movement of the champion is well presented, while the girls appear as a decorative ornament in the background. The stylized portrayal of women can remind the viewer of the popular poster style of the 1940s. It is also remarkable that in case of socialist realist posters, it is quite rare that women can be depicted in shorts or short skirts - the female body and beauty could hardly be emphasized because of the extremely prudish atmosphere of the period. As this example reveals, sport posters could sometimes be exeptions, though.
(Anita Pásztor)