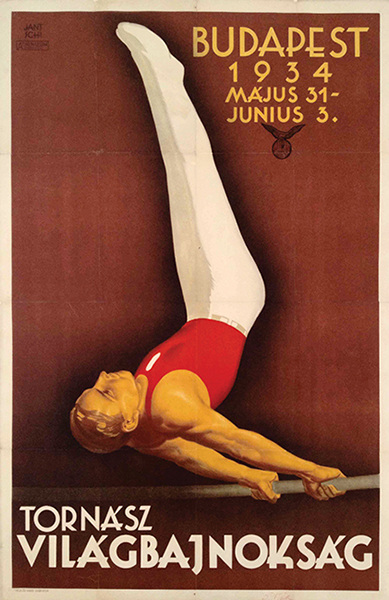 Description:
This sport poster was designed for the Gymnastics World Championship in 1934 which was held in Budapest, from the 31th of May until the 3rd of June. The best athletes of thirteen nations came to Hungary to compete.
Hungarian gymnasts have been among the most significant athletes of the world ever since the Luxembourg Gymnastics World Championship in 1930. Hungary has organised three artistic and three rhythmic gymnastics world championships, and has given home to several world-wide important events of gymnastics sport .
The poster was created by Béla Jantschi, a graphic designer of the 1930s. The artist successfully captured the movements of a gymnast in the popular style of Art Deco. His great design reflects the naturalist tendencies of Hungarian poster art in the 1930s. The typographic design is just as magnificent and elegant as the graphics of the poster.
Béla Jantschi (1903 - ?) was a graphic designer active during the 1930's. His style was originally defined by classicist tendencies, and later by Art Deco. .
Signed: "Jantschi" right side, top.