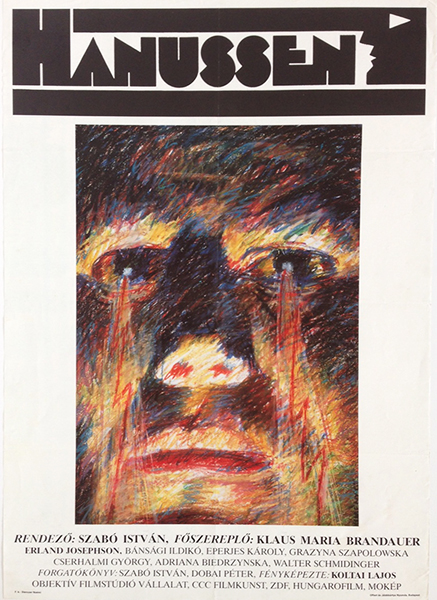 Hanussen
Hungarian title:
Hanussen plakát
Size:
A1 1 Sheet (cca. 55 x 84 cm)
Condition:
Fine, light fold marks and wear.
Material:
Paper, offset lithography.
Price: US$600
Description:
Original Hungarian vintage movie poster from 1988 by György Kemény.
Hanussen is a 1988 Hungarian film about Erik Jan Hanussen, an Austrian Jewish publicist, charlatan and clairvoyant performer. The film was nominated for the 1988 Academy Award for Best Foreign Language Film. The German language film was directed by István Szabó and starred Klaus Maria Brandauer.
Austrian Klaus Schneider, who later comes to be known as Erik Jan Hanussen is wounded during World War I. While recovering in the care of Dr. Emil Bettleheim (Erland Josephson), the Doctor discovers that Schneider possesses empathic powers. After the war, with one friend as his manager and another as his lover, Schneider changes his name and goes to Berlin to perform in halls and theaters as a hypnotist and mind reader. His purported powers bring him to the attention of the Nazis which cause his fame and power – as well as his own troubles – to grow. (source: wikipedia.org)