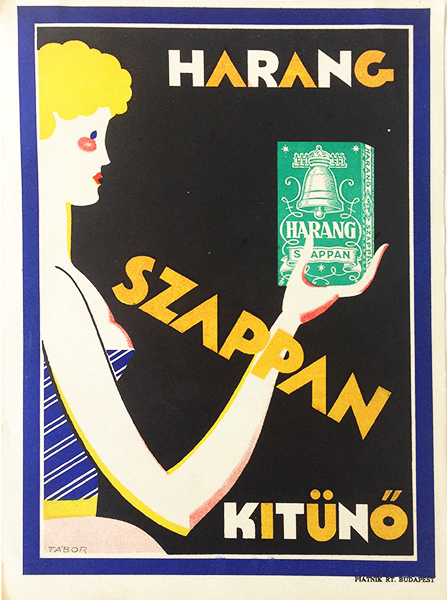 Harang soap is excellent
Hungarian title:
Harang szappan kitűnő
Size:
A4 (cca. 21 x 29 cm)
Condition:
Fine, light wear.
Price: US$400
Description:
Harang soap is excellent is a 1929 vintage Hungarian Art Deco commercial advertising poster designed by Janos Tabor.
In the late 1920s, as it was a tradition, there was a tender, inviting entries for a competition to find the perfect poster for the 'Harang' soap. The winner was Sándor Bortnyik, one of the masters of Hungarian poster art. Together with Róbert Berény and Lajos Kassák, Bortnyik introduced the modernist-constructivist poster style in Hungary in the 1920s. His prominent commercial posters from the 1920s and 1930s are worldwide known.
Although Bortnyik won the competition, the best 14 works were published in one of the most important graphical magazines of the era, 'Magyar Grafika' (Hungarian Graphics) in 1929. János Tábor had several works which were selected to the best ones. This is one of them.
János Tábor (also known as János Tauphert) was a poster designer, painter and illustrator, active in the first half of the 20th century. He also worked for the mentioned journal, Magyar Grafika, among others. His most famous works are his propaganda posters from the turn of the 1920s, but later he mostly designed commercial and movie posters.
This work is a fine Art Deco piece. It depicts a gentle, but humorous female figure in a bathing suit, holding the product in her hand in front of a black background. The figure is captured in a lovely, cartoon-like portrayal. Her face has the most characteristic features: her eyes are dotty and there are red rounds on her cheeks representing blush. Her skin is as white as snow and shades on it are depicted in yellow and red.
The brand 'Harang' means bell, that was why the product had a graphical design of a bell as a trademark on the packaging. The slogan of the commercial appears in a white and orange typography in a varied emplacement. The whole design reflects elegance and decorativeness, still it can keep its freshness and humour.