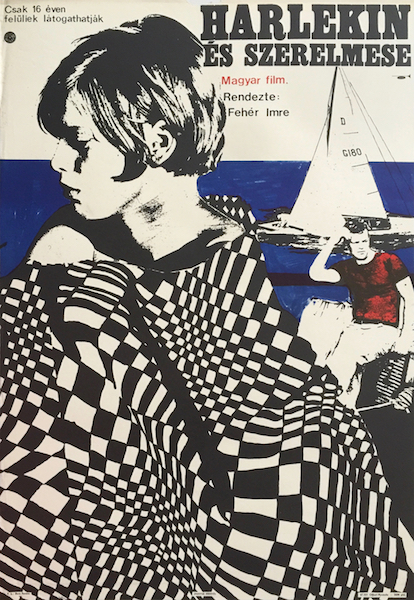 Harlequin and Her Love
Hungarian title:
Harlekin és szerelmese
Size:
A1 1 Sheet (cca. 55 x 84 cm)
Condition:
Fine, light wear and fold marks, small paper loss at the middle of the top border, some dirt.
Price: $400
Description:
Poster for a Hungarian movie, Harlequin and Her Love (Harlekin és szerelmese), directed by Imre Fehér, starring István Bujtor and Anikó Sáfár.
Outstanding design by József Finta. Finta was the one who introduced the so-called "burned" photography to poster art in Hungary. He applied this technique on the poster for Harlequin and her Love as well. Burned photography is a technique where an overexposed photo appears as a very contrasted image, mostly in black and white, with no shades. This results that the photo appears as an ornament. Besides the contrasted photographs, Finta also used colors in order to achieve a decorative image. This design shows the impact of Op Art (besides Pop Art): the dress of the girl appears as an optical illusion.