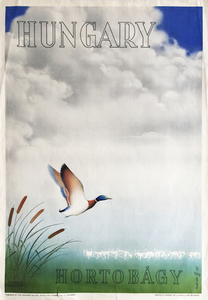 Hortobagy Hungary
Hungarian title:
Hortobágy Hungary
Size:
Pre-war 1 Sheet (cca. 63 x 95 cm)
Condition:
Fine, unrestored, tears, creasing and folds along the borders.
Price: $1200
Description:
The authors of this poster, Antal Fery and György Konecsni frequently cooperated. György Konecsni was among the most significant Hungarian poster artists. His signature style was Art Deco, but his ouvre is diverse, containing a great variety of styles.
Konecsni defined a completely new trend on the field of travel posters by applying charming colours, and the usage of strong contrasts between light and dark shades in order to achieve a dramatic effect. This effect characterized classic Renaissance oil painting, and the fact that Konecsni applied it on his posters is an example to how Konecsni consciously utalized elements of the painting traditions, while maintaining the special characteristics the poster genre required. In a time when two major, and somewhat contrasting tendencies - Modernism and Art Deco - were coexisting in graphic design, Konecsni's works presented a harmonious synthesis what resulted in perfectly balanced compositions.
This Fery-Konecsni poster received the most beautiful poster award on the Internetional Tourism Poster Exhibition of 1936 held in the National Saloon, as well as the Fuad Cup, the award of the Association of International Tourism. A strong characteristic of the travel posters of Konecsni and Fery is apparent on this piece: the pictured elements are so ethereal that they seem to be dissolving in the atmosphere. This effect is achieved by the use of paint spray that Konecsni revolutionized on the field of poster design.
On this poster the authors depicted the Hungarian grey cattle in the background with strong white colour, so they become visible as they are grazing in the greyish mist. A duck that has just soared from the cane is displayed in the foreground. The colourful feathers, the bright colours make the bird and the plant stand out from the background, however the whole image creates a strong unitiy as a result of harmonizing colours, the contrasting dark and bright elements, perfect proportions and delicate shades. The duck, the cane and the cattles refer to Hortobágy's biodiversity. The composition corresponds to the characteristics of a good poster: a complex message is transferred by a compact visual language, it is not overwhelmed neither with textual nor with visual information, hence it is easy to understand, catches attention and has a strong atmosphere.
The travel posters of Konecsni were always offset printed. György Klösz and his priting house were the pioeers in offset printing. These posters are marked with "Klösz Coloroffset" tag. Konecsni could utilize the raster effect that naturally came from offset prrinting