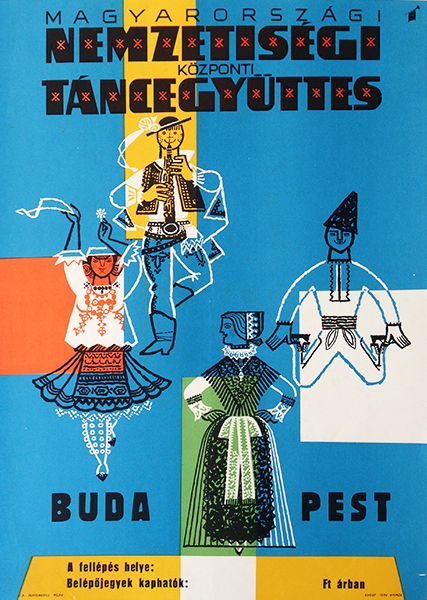 Hungarian Central Dance Company of Ethnicities
Hungarian title:
Magyarországi Nemzetiségi Központi Táncegyüttes
Price: $150
Description:
Size: cca. 40 x 56.5 cm
Poster for the Hungarian Central Dance Company of Ethicities. The dance company was established by Antal Kricskovics a great artist, who has been the leader of the company ever since he founded it, in 1959. The name of the company today is Fáklya Croatian Art Company. He was always interested in the dance culture of ethnicities living in Hungary and besides the Croation traditions, he made thorough researches on the field of Serbian, Greek, Romanian and other dances. Antal Kricskovics has won several prizes including an Award for his contribution to the culture of ethnicities living in Hungary. The Hungarian Central dance Company of Ethnicities was one of the many great things that aided him to win such a prize.
The poster is a vivid design depicts four folk dancers in traditional clothing. Each of them is standing in front of a coloured block and presenting a typical move. The typography is simple, although with the pattern on the larger letters on the top it also gets a folksy style. The posterv was a bianco piece for advertising the performances of the group. The place of the next performance was to be written on the bottom together with the availability and price of the tickets.