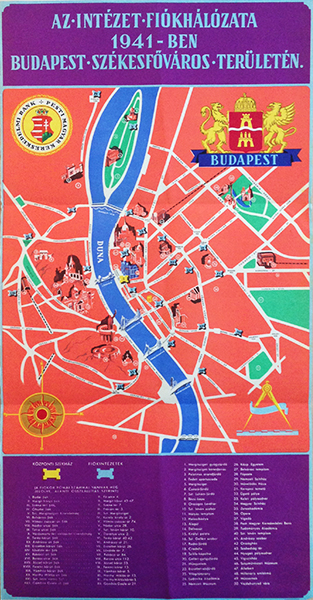 Hungarian Commercial Bank of Pest - branch network map
Hungarian title:
Pesti Magyar Kereskedelmi Bank fiókhálózati térkép
Condition:
Fine, horizontal fold marks and a fold mark on the bottom right corner
Price: $200
Description:
Decorative map of the branches of the Hungarian Commercial Bank of Pest (PMKB). Size: 55.5 x 28.5 cm.
Hungarian Commercial Bank of Pest was the first bank of Hungary established in 1840 on the 14th of October and was active from 1841. Among its wealthy Hungarian tradesmen founders there was István Széchenyi, the greatest Hungarian. Between 1841 and 1867 this was the only commercial bank of Hungary. After World War II the bank was nationalized and was privatized again in 1994.
The map is a very decorative colourful design which shows Budapest downtown on both sides of the river Danube. The main tourist sights are marked and the branches of the bank. The combination of the colours- red, purple, blue and green - is quite brave, but works very well here, and makes the composition very eye-catching and vivid.