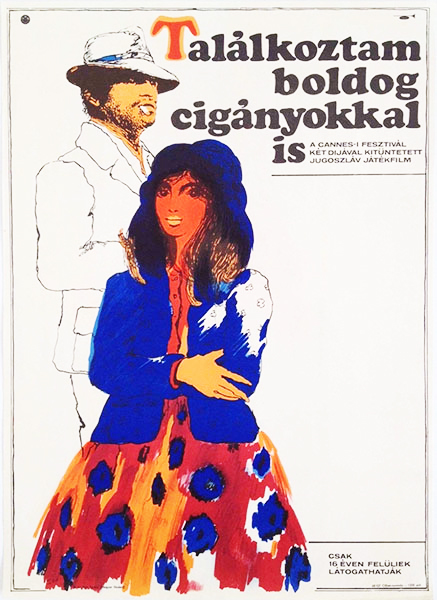 I Even Met Happy Gypsies
Hungarian title:
Találkoztam boldog cigányokkal is
Size:
A2 1/2 Sheet (cca. 42 x 59 cm)
Condition:
Fine, light fold marks and wear.
Price: $100
Description:
I Even Met Happy Gypsies is a 1967 Yugoslav film by Serbian director Aleksandar Petrović. Its original Serbian title is Skupljači perja, which means The Feather Gatherers. At the 1967 Cannes Film Festival it was nominated for the Palme d'Or and won the Special Grand Prize of the Jury and the FIPRESCI Prize.
Bora the Gypsy is married to an older woman, and he falls in love with the younger Tissa, who is being offered in marriage by her father, to a young gypsy man. This marriage arrangement is according to custom. Tissa rejects her husband, claiming he is not able to consumate the marriage, and Bora joins her. They get a monk in the mountains to marry them. Unable to return to the Gypsy camp, Tissa tries to reach Belgrad on her own, but a couple of truck drivers rape her, and she does return in misery to her tribe. Meanwhile, Bora defends his honour the traditional way, in a knife duwl, and kills his opponent. Therefore he, too, must leave the tribe. And yet, we'll find happy gypsies...