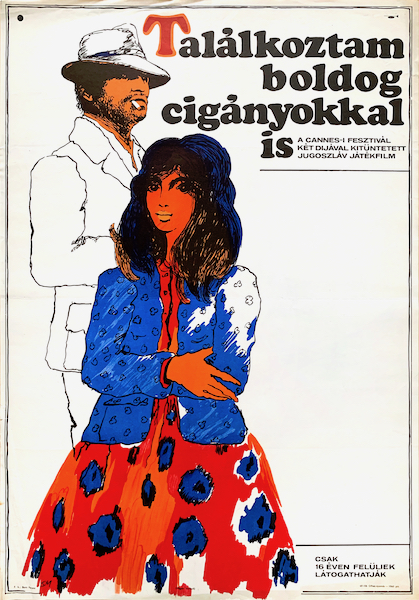 I Even Met Happy Gypsies
Hungarian title:
Találkoztam boldog cigányokkal is
Size:
A1 1 Sheet (cca. 59 x 84 cm)
Condition:
Fine, light fold marks and wear, discolouration.
Material:
Paper, offset lithography.
Price: US$480
Description:
I Even Met Happy Gypsies is a 1968 vintage Hungarian movie poster designed by Margit Sandor.
I Even Met Happy Gypsies is a 1967 Yugoslav film by Serbian director Aleksandar Petrović. Its original Serbian title is Skupljači perja, which means The Feather Gatherers. The film is centered on Romani people's life in a village in northern Vojvodina, but it also deals with subtler themes such as love, ethnic and social relationships. Beside Bekim Fehmiu, Olivera Vučo, Bata Živojinović and Mija Aleksić, film features a cast of Romani actors speaking the Romani language. I Even Met Happy Gypsies is considered one of the best films of the Black Wave in Yugoslav cinema. (source: wikipedia.org)
Tensions arise in a Gypsy community when a local feather seller falls in love with a much younger girl.
Director: Aleksandar Petrovic
Writer: Aleksandar Petrovic
Stars: Bekim Fehmiu, Olivera Katarina, Velimir 'Bata' Zivojinovic
(source: imdb.com)