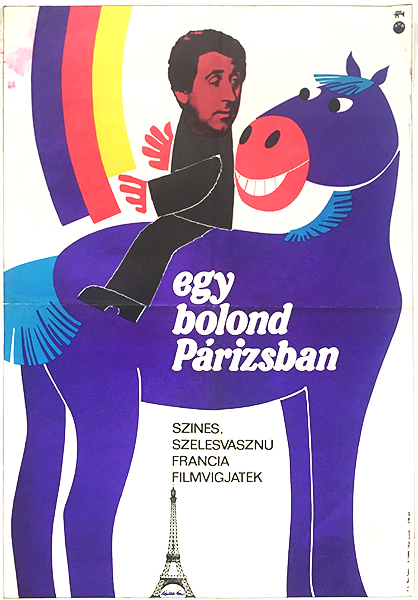 Idiot in Paris
Hungarian title:
Egy bolond Párizsban
Size:
A2 1/2 Sheet (cca. 42 x 59 cm)
Condition:
Fine, fold marks, light wear, stains.
Material:
Paper, offset lithography.
Price: US$240
Description:
Idiot in Paris is a 1972 vintage Hungarian movie poster designed by Lajos Vajda and released in 1973.
Un idiot à Paris is a 1967 French film.
Goubi, the simpleton of his village in the French Department Allier, has but one wish: to see Paris. One day, the truckers Grafouillère deposit a drunk Goubi in the biggest market of Paris (the "Halles"). The poor man is completely lost, but the meat merchant Dessertine takes him under his wings when he hears that Goubi was likewise 'raised by the State'...
Director: Serge Korber
Writers: Michel Audiard, René Fallet (novel)
Stars: Dany Carrel, Jean Lefebvre, Bernard Blier
(source: imdb.com)