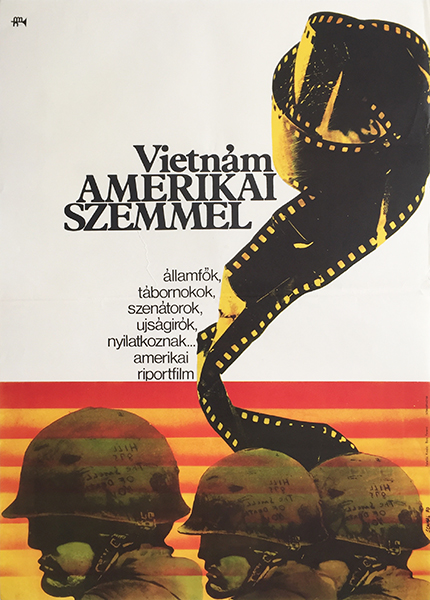 In the Year of the Pig
Hungarian title:
Vietnám amerikai szemmel
Size:
A1 1 Sheet (cca. 55 x 84 cm)
Condition:
Fine, fold marks, light wear.
Price: $280
Description:
This Oscar-nominated documentary looks at those who were opposed to American involvement in the war in Vietnam. Released in 1968 as public opposition to U.S. involvement was still rising, several prominent Americans are interviewed. The history of the Vietnam conflict is explained and provides a stark contrast of the government view of the time that U.S. involvement in this war was part of an overall fight against the spread of communism. The horrors of war are presented giving a stark representation of what the war was like, particularly for the Vietnamese who had to live through it every day (source: imdb.com)
Károly Schmal's design carries a complex message. In the bottom a soldier wearing a helmet is depicted, and this image is repeated twice. Although his eyes can't be seen, the desparation he feels is clear from the posture of his head. The red stripes covering the photos of the soldier remind the viewer of war and fire. The film stripe coming out from the head just like a speech bubble reflects to the movie's narrative documentary.