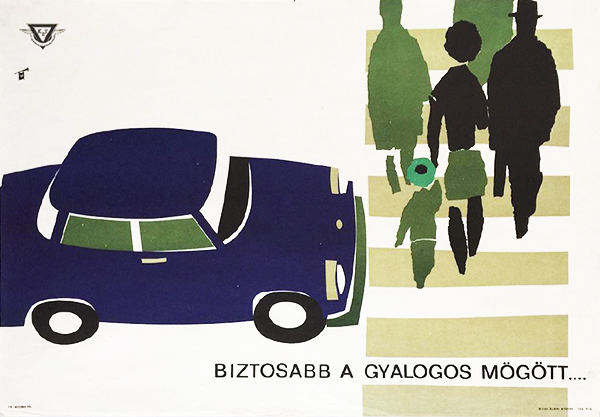 It's safer behind the pedestrian....
Hungarian title:
Biztosabb a gyalogos mögött....
Size:
B2 (cca. 50 x 70 cm)
Condition:
Fine, creases along the border.
Material:
Paper, offset lithography.
Price: US$800
Description:
It's safer behind the pedestrian.... is a 1965 vintage Hungarian travel safety poster designed by Antal Gunda.
Propaganda poster for a governmental safety campaign from 1965. In the 1950s and 1960s many campaigns were organized by the government that intended to ensure the safety of people, most of them focused on the dangers of the traffic. This was due to the fact that manny people moved to urban environment from villages and needed time to get used to the traffic.
This poster was made with paper cut-out technique. It shows a moment of one of the everyday dangers of life on the road, viewed from above. This bird's eye view was a clever idea of Gunda as this view is capable of depicting all important elements of the situation.