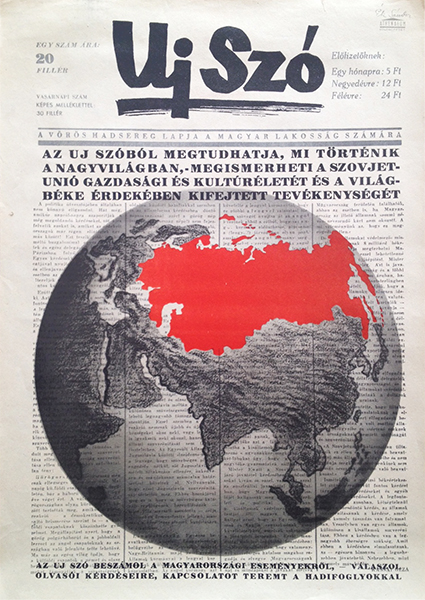 Journal of the Red Army
Hungarian title:
Uj szó - A vörös hadsereg lapja
Size:
A2 1/2 Sheet (cca. 42 x 59 cm)
Condition:
Fine, one small tear at the top left corner, light wear.
Price: $800
Description:
Outstanding poster from the Second World War. The poster advertises the newspaper of the Red Army, which was supposed to inform the Hungarian civilians about the movements of the Soviet troops. The journal was called "Uj Szó" (~ New Word). The newspaper existed between 1945 and 1948.
In 1943 the German army and their allies suffered a historic defeat at Stalingrad. In the spring of 1944, Germany occupied Hungary in order to prevent the country's change-over. In the fall of 1944 the Red Army started an attack against Hungary, and by the end of October they captured the Eastern part of the country. The siege of Budapest took place in December and January; by February the Soviet Army captured the city. On the 4th of April 1945 the last German soldier left the country.
The fast victory of the Red Army caused a rapid political change. The German-friendly Hungarian nazi regime was suddenly wiped away. The Soviets managed with a well organized propaganda, and they wanted to communicate the social and political changes to the public. That's why the Red Army published an own journal, which informed the people about the outcome of the war, and nevertheless about the ideology of the Soviet state. One other function of the journal was to manage the communication with the Hungarian POWs in Russia (this is written on the poster).
However the publication wasn't created by the Russians, and that is also visible on this poster. The editor of the journal was Géza Kassai (his name appears on the poster), a Hungarian journalist who served at the Red Army as officier. Also the designer of the poster (and probably of the newspaper's cover) was a Hungarian artist, Sándor Ék, who was also fighting in the Red Army. Both of them (and many other Hungarians) were political emmigrants before the war, and they could come back with the Russian army.
Sándor Ék earned later high reputation as an artist. He worked as poster designer, painter, art teacher, and he published graphic albums. He followed the realist style, which was according to Stalin the most understandable style in art that could best serve the needs of the working class.
This composition is not a socialist realist one that later became so typical for Ék. We only see the map of Soviet Russia, and the decorative cover of the journal. The composition consciously followed Mihály Biró's famous Népszava poster from 1912, that also showed the newspaper's cover with one impressive motive on it. The poster can be dated to 1946-1947, since the text of the cover tells about quarells at the Peace conference, as the negotiations were going on in Paris.