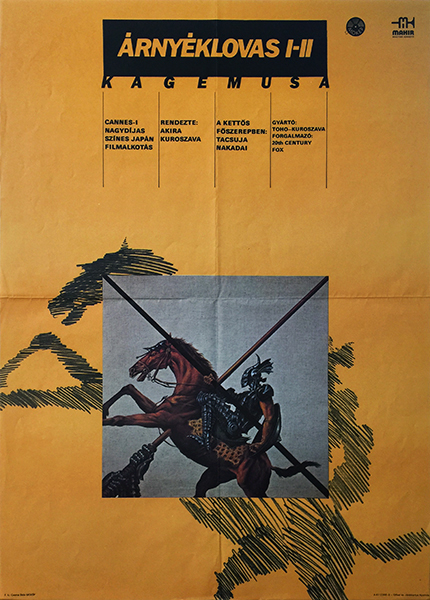 Kagemusha - Shadow Warrior
Hungarian title:
Árnyéklovas I-II Kagemusa
Size:
A1 1 Sheet (cca. 55 x 84 cm)
Price: $320
Description:
The author of the poster, Tibor Helényi gained international succes with his Sat Wars posters. Besides his famous series he designed numerous science fiction movie posters and book covers.
Kagemusha (影武者 Shadow Warrior) is a 1980 film by Akira Kurosawa. In Japanese, kagemusha is a term used to denote a political decoy. It is set in the Sengoku period of Japanese history and tells the story of a lower-class criminal who is taught to impersonate a dying daimyō to dissuade opposing lords from attacking the newly vulnerable clan. The daimyō is based on Takeda Shingen, and the film ends with the climactic 1575 Battle of Nagashino.
The film won the Palme d'Or at the 1980 Cannes Film Festival. It was also nominated for the Academy Award for Best Foreign Language Film and received other honours. (source: wikipedia.org)