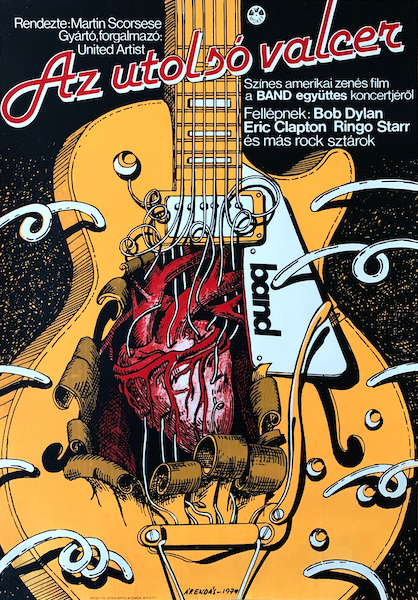 Last Waltz, The
Hungarian title:
Az utolsó valcer - Színes amerikai zenés film a Band együttes koncertjéről
Size:
A2 1/2 Sheet (cca. 42 x 59 cm)
Condition:
Fine, light wear.
Material:
Paper, offset lithography.
Price: $600
Description:
The Last Waltz is a 1979 vintage Hungarian movie poster designed by Jozsef Arendas.
The Last Waltz was a concert by the Canadian-American rock group The Band, held on American Thanksgiving Day, November 25, 1976, at Winterland Ballroom in San Francisco. The Last Waltz was advertised as The Band's "farewell concert appearance", and the concert saw The Band joined by more than a dozen special guests, including their previous employers Ronnie Hawkins and Bob Dylan as well as Paul Butterfield, Bobby Charles, Eric Clapton, Neil Diamond, Dr. John, Joni Mitchell, Van Morrison, Ringo Starr, Muddy Waters, Ronnie Wood, and Neil Young. The musical director for the concert was The Band's original record producer, John Simon.
The event was filmed by director Martin Scorsese and made into a documentary of the same title, released in 1978. Jonathan Taplin, who was The Band's tour manager from 1969 to 1972 and later produced Scorsese's film Mean Streets, suggested that Scorsese would be the ideal director for the project and introduced Robbie Robertson and Scorsese. Taplin served as executive producer. The film features concert performances, intermittent song renditions shot on a studio soundstage, and interviews by Scorsese with members of The Band. A triple-LP soundtrack recording, produced by Simon and Rob Fraboni, was issued in 1978. The film was released on DVD in 2002 as was a four-CD box set of the concert and related studio recordings.
The Last Waltz is hailed as one of the greatest documentary concert films ever made.
(source: wikipedia.org)