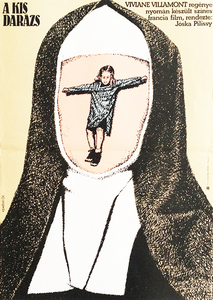 Le Guepiot
Hungarian title:
A kis darázs
Size:
A2 1/2 Sheet (cca. 42 x 59 cm)
Condition:
Fine, with fold marks.
Price: $100
Description:
Original Hungarian poster for the French drama, Le Guepiot. The film, based on Viviane Villamont's novel and directed by Joska Pilissy. Le Guepiot is a psychological drama which attacks the form of dictatorial education given to children.
The poster was designed by György Kemény who was an important graphic and conceptual artist of the 1960-1980 period. Highly innovative and constantly searching for new artistic forms and styles, he was one of the first artists to introduce Pop Art to the Eastern bloc. This design of his is a very unique piece. It pictures a nun and there iss a child on her face in a crucified position. The composition perfectly matches the theme and atmosphere of the film.