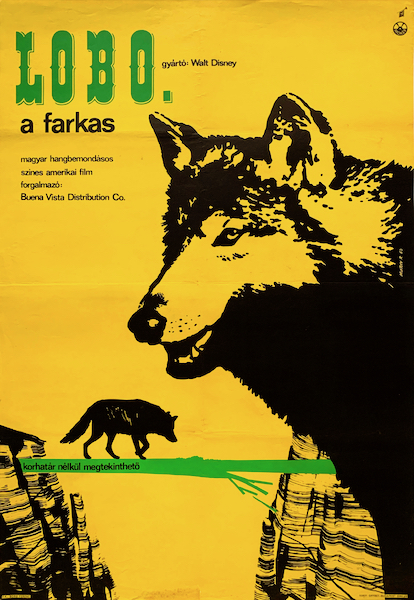 Legend of Lobo, The
Hungarian title:
Lobo a farkas
Size:
A1 1 Sheet (cca. 59 x 84 cm)
Condition:
Fine, light fold marks and wear, small stains.
Material:
Paper, offset lithography.
Price: US$440
Description:
The Legend of Lobo is a 1965 vintage Hungarian movie poster designed by Robert Muray.
The Legend of Lobo is a 1962 American film.
The Legend of Lobo is a 1962 American film that follows the life and adventures of Lobo, a wolf born and raised in southwestern North America. Neither the time period nor the precise location are specified in the film, in part because the story is told as much from a wolf's point of view as from a human's. There is no dialogue in the film; the only interpretation is through a story-song composed and sung by the Sons of the Pioneers and the Sherman Brothers, and narration by Rex Allen. Filming took place in Sedona, Arizona.
Lobo is based upon Lobo the King of Currumpaw, an 1890s wolf described in a non-fictional account by naturalist Ernest Seton, who was the bounty hunter in the real-life story.
Directed by James Algar, Jack Couffer
Produced by Walt Disney, James Algar, Jack Couffer
Written by Dwight Hauser and James Algar Ernest Thompson Seton (source author)
Narrated by Rex Allen
Music by Oliver Wallace (score) Richard M. Sherman and Robert B. Sherman (title song) The Sons of the Pioneers (title song performers) Walter Sheets (orchestrator)
Cinematography Lloyd Beebe Jack Couffer
Edited by Norman R. Palmer
Production company Walt Disney Productions
Distributed by Buena Vista Distribution
Release date November 7, 1962 (Los Angeles)
Running time 67 min.
(source: wikipedia.org)