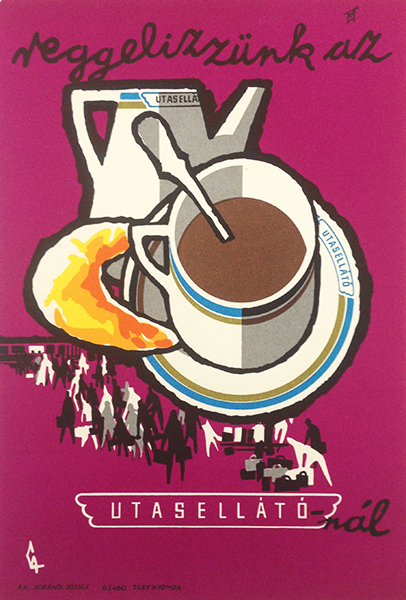 Let's Have Breakfast at the Station restaurants
Hungarian title:
Reggelizzünk az Utasellátónál
Size:
Tram poster (cca. 17 x 24 cm)
Material:
Paper, offset lithography.
Price: US$320
Description:
Poster for the 'Utasellátó' which means passenger supplier if we translate it word-for-word. Utasellátó was a company in the Socialist times which was responsible for the well-being of the passengers travelling by train. The company belonged to MÁV, the Hungarian National Railway. They offered catering services. There were wagons where one could have breakfast if he went for a longer trip. The passengers could eat and drink while being on their way.
The author of this decorative poster is Antal Gunda. Gunda preferred intense colours which is apparent on this piece as well. The logo of the adsvertised company appears three times: on the jug, the plate and at the bottom of the composition. The poster depicts a meal, a typical breakfast: a cup of coffee and a croissant and a The uneven contour lines give the impression of watercolour paint which was frequently used by Gunda. A very decorative piece.