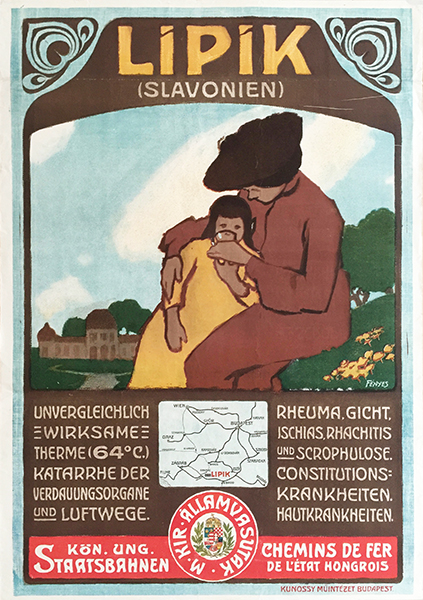 Lipik Thermal Bath
Hungarian title:
Lipik (Slavonien)
Size:
B1 (cca. 70 x 100 cm)
Condition:
Fine, backed on paper, fold marks, small creases, paper loss on the white border.
Price: US$2800
Description:
This beautiful poster is from 1906 and was designed by the noted painter, Adolf Fényes of the Szolnok Artists' Colony. It advertises Lipik, a place famous for its medicinal waters and spas in Slavonia.
Today Lipik is located in Croatia and it is known for its baths next to the Lipizzaner stud. Thanks to the thermal water gushing out from thousands of meters deep, it has been a bath since the Roman ages. In 1861 the ownership of the baths was taken over by a French company which started to build a railway. The poster of Adolf Fényes advertises both the bath and the Hungarian Royal Railways with which one could easily get to the popular tourist destination. On the turn of the century, due to the good infrastructure, Lipik became one of the most beloved locations with thermal baths.
Adolf Fényes studied in Munich and Pest. Later he became famous as prominent painter of the Szolnok Artists' Colony, author of landscapes, folksy genre paintings and portraits. The painters of this era, such as Fényes, Ferenczy, Vaszary and Rippl-Rónai played a key role in the birth of Hungarian modern poster art. They were the first to learn the planar portrayal typical of posters; the first truly poster-like posters were created stylistically in terms of postimpressionism and secession. Fényes painted a charming scene for this poster, similar to his folksy genre paintings: the building of the bath appears in the colourful landscape while in the foreground there is a young mother giving thermal water to her child.
A Lipik poster was also designed by Géza Faragó in 1908. On this piece appears an elegant young lady as well, who here drinks the water herself. There are lot of similar components on the two posters: the same typography, both of them has the map on it as well as the ad of the Hungarian Royal Railways.
The piece being on sales now has gotten to the Albertina Museum of Vienna from one of the most significant early private collections, the poster collection of Julius Paul. After a restitution process it was returned to the heirs of Julius Paul. Now it is in Hungary again within the frames of the auction. Fortunately the poster was preserved in near mint condition in the Albertina.