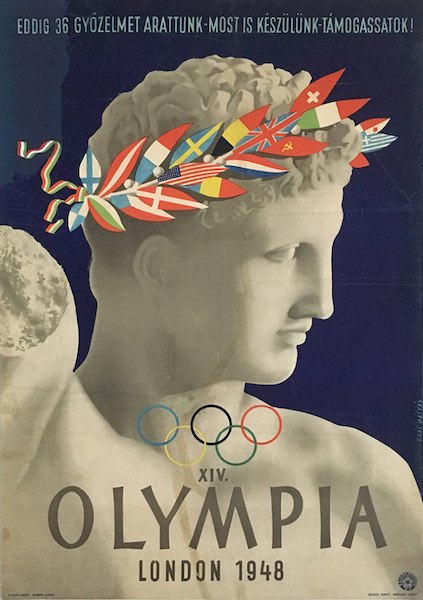 London Summer Olympics 1948 - Games of the XIV Olympia
Hungarian title:
XIV. Olympia London 1948 - Londoni Nyári Olimpia plakát
Size:
A1 1 Sheet (cca. 55 x 84 cm)
Condition:
Very good. Restored tears, paper loss at the top left corner replaced with modern print, tape marks.
Price: $2000
Description:
This poster from 1947 is an emblematic piece of Matyas Gaal's ouvre. The design won a competition and became the official Hungarian poster of the Olympic games in London, and it is undoubtedly among the most expressive and most sophisticated Olympic posters. It has been reproduced in books, albums and in local and international journals numerous times. The venue of the 1948 Olympic games was London, and it was among the most successful Olympics for the Hungarian team, where the country won 10 gold, 5 silver and 12 bronze medals. Ilona Elek won gold medal in fencing for the second time after 12 years. Great sportsmen and sportswomen participaterd such as the fencer Aladar Gerevich who was an Olympic champion seven times, or boxer Laszlo Papp, who won his first gold medal out of the three in London.