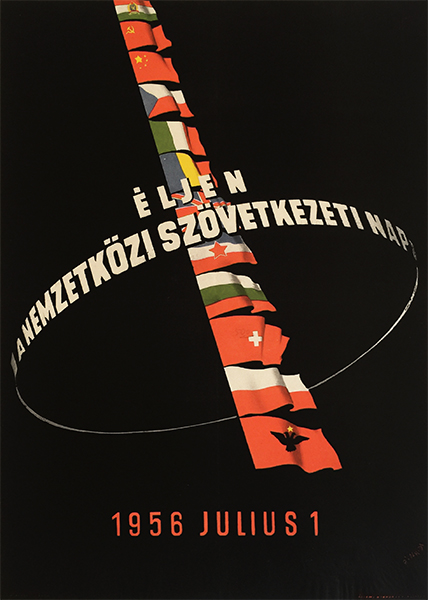 Long live the International Co-operative Day
Hungarian title:
Éljen a Nemzetközi Szövetkezeti Nap. 1956 Július 1.
Size:
B2 (cca. 50 x 70 cm)
Condition:
Fine, restored, light creasing.
Price: $600
Description:
Poster for the Intrenational Co-operative Day.
International Co-operative Day is held annually on the first Saturday of July. The event is organized by the International Co-operative Alliance and it was first held in 1923. The celebration is a memorial for an occurance in 1844 what took place in the English village of Rochdale, namely the foundation of the Rochdale Society of Equitable Pioneers. This organization is the ancestor of the consumer co-operative, and they were among the first ones who paid patronage dividend, which later had been identified the base for the modern co-operative movement. The most famous act of the Pieoneers were to create the Rochdale Principles which provided the basis for the principles of modern co-operatives all over the world. The motto of the Intrenational Co-operative Day is: 'The co-operative provides all of us with what we need for the sustainable improvment'.
In the former socialist countries co-operatives are often associated with the old system despite co-operation dates back as far as human beings have been organizing for mutual benefit. Tribes were organized as co-operative structures, allocating jobs and resources among each other, only trading with the external communities. In alpine environments, trade could only be maintained in organized cooperatives to achieve a useful condition of artificial roads such as Viamala in 1472. Pre-industrial Europe is home to the first cooperatives from an industrial context. (source: wikipedia.org). Socialism is usually associated with co-operatives because the structure and the philosophy behind it really coincides with the communist idea of the basis of a profitable economy. Therefore in Socialism numerous co-operatives had emerged many of which had badly affected workers in the related areas. However, communist countries put a great emphasis on celebrating events close to their ideologies, hence posters were made to get the audience's attention and promote the upcuming event.
On this beautiful design of Andor Bánhidi flags of countries are arranged diagonally in front of a black background. The countries respectively from the top: Hungary, Soviet Union, People's Republic of China, Checzoslovak Republic, Ireland, Romania, England, Yugoslavia, Bulgaria, Switzerland, Poland and People's Socialist Republic of Albania. Most of these countries were socialist countries at the time, or were strongly associated with the idea of co-operatives and were participating in the celebration. The composition reminds us of a foil sword the end of which disappears in the distance, what gives the impression of socialism's victory and bright future. The name of the event is written in a dynamic style: Long live the Co-operatives Day! The date is on the bottom of the poster which reveals that the first Saturday of July in 1956 was on the 1st of July.