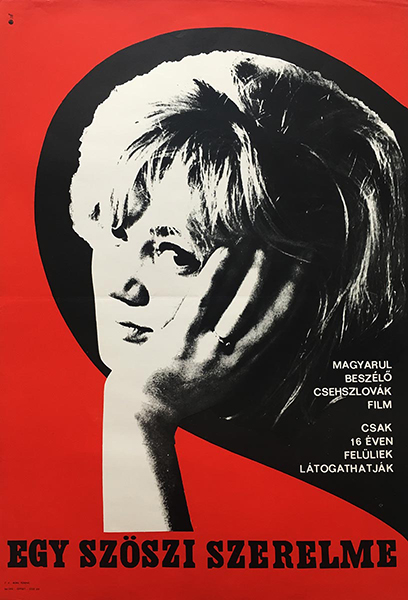 Loves of a Blonde, The
Hungarian title:
Egy szöszi szerelme
Size:
A1 1 Sheet (cca. 55 x 84 cm)
Condition:
Fine, light fold marks and wear.
Price: $320
Description:
The Loves of a Blonde is a 1966 Hungarian vintage movie poster.
Loves of a Blonde (Czech: Lásky jedné plavovlásky), also known as A Blonde in Love, is a 1965 Czechoslovak ensemble comedy film directed by Miloš Forman that follows a young woman, Andula, who has a routine job in a shoe factory in provincial Czechoslovakia, and her attempts at forging a romantic relationship.
Forman based his story on a real-world incident from his past and the filmmakers focused much of their attention on trying to create a real-life look and feel by filming on location in a small Czech town with a shoe factory of its own, utilizing a largely non-professional cast, relying on a considerable amount of dialogue improvisation, and employing documentary-style cinematographic techniques.
Upon its release, Loves of a Blonde was a popular success in its home country and was shown at some major film festivals, where it was well-received, garnering a number of nominations and awards. Critical response was largely positive, although some reviewers were less enthusiastic than others. The film is now considered one of the most significant examples of the Czech New Wave, a movement which took advantage of a temporary relaxation of totalitarian control over creative artists to use cinema as a means to explore new narrative strategies while making pointed critiques of social and political conditions behind the Iron Curtain. Loves of a Blonde was nominated for the 1966 Academy Award for Best Foreign Language Film. (source: wikipedia.org)